A Series
Luxury Class
Available in three trim levels, the new A Series™ sets an elevated standard for luxury, performance, and personalization.
Trim Package Quick Comparison
A Series Standard

Standard cabinetry
Standard jet bezels
Standard headrests
Standard water feature
Standard lighting
Standard JetPak count
8-button standard control

A Series Plus

Standard cabinetry
Standard jet bezels​
Premium headrests
Premium water feature
Premium lighting
Premium JetPak count 
Premium 3-button auxiliary controls
Premium touch-screen control

A Series Select

Select 2-tone cabinetry
Select Tungsten metallic jet bezels​
Select lighting under headrests​
Premium headrests
Premium water feature
Premium lighting
Premium JetPak count 
Premium 3-button auxiliary controls
Premium touch-screen control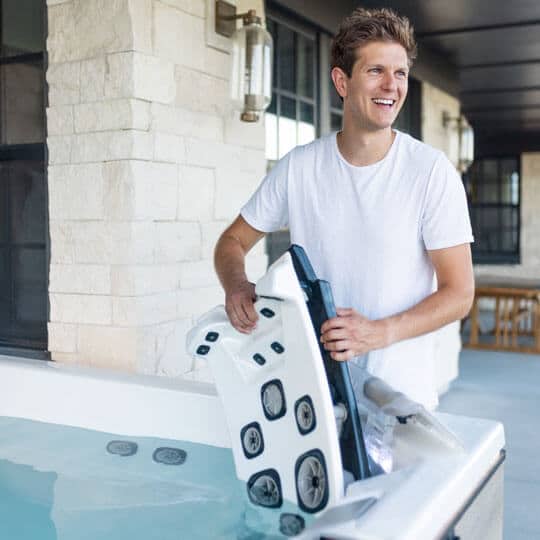 Choose Your Own Jet Massages
The Bullfrog Spas JetPak Therapy System™ includes up to 16 unique and interchangeable JetPak® massages to choose from so you can personalize your hot tub experience. Select your preferred massages, place them in your favorite seats, move them from seat to seat whenever you like, and upgrade with a new JetPak at any time.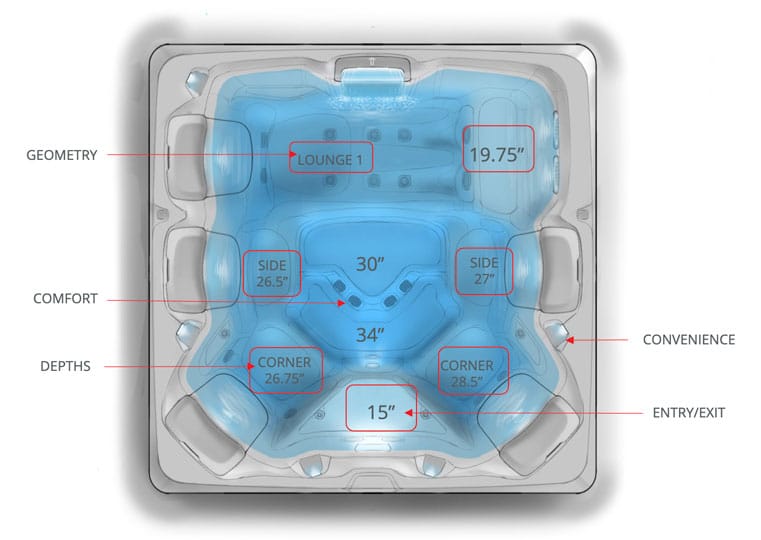 Thoughtful Seating
All layouts, seats, and jet placements in A Series spas have been carefully re-evaluated to provide optimal therapy experiences for the largest variety of people and situations. This includes a thoughtful mix of seat depths in each model, improved seating ergonomics, better jet alignment, a focus on safe entry/exit, and enhanced premium seating in proximity to conveniences like auxiliary controls and cup holders.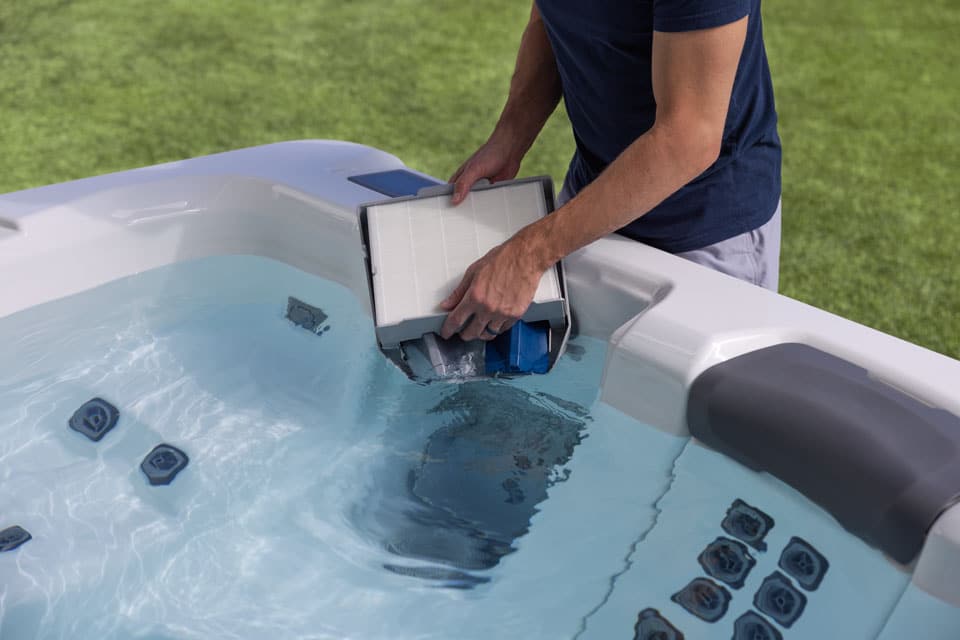 Simplicity™ Filtration System
Featuring dual intakes for more effective skimming, an in-wall design that saves an incredible amount of space for seating, and an industry-first flat filter. You'll absolutely love the convenience and cost savings that come with this simple approach to spa water filtration.
Optional Water Care Upgrades
EOS™ O3 Enhanced Ozone System

EOS O3 is a revolutionary automatic water purification system that eliminates impurities using the powerful oxidation properties of O3 gas. This unique three-part system works by generating ample amounts of O3 gas, combining it with spa water in an isolated high-contact mixing chamber, and then filtering out over 99% of excess ozone to prevent negative off-gassing effects.

WellSpring™ Ozone Purifier System

The WellSpring™ Ozone Purifier System features corona discharge electrode technology that creates ozone which increases the purifying oxidation potential of your spa's own water. Keep your spa clean and significantly reduce the amount of sanitizing chemicals needed.

Wellspring™ Dedicated Filtration Pump

The dedicated Wellspring filtration pump is a quiet, vibration free, circulation pump that is more than eight times as effective as standard filtration pumps. Your spa will filter better, while consuming up to 60% less operating energy, saving you money.
Colours & Finishes
A Series spas offer a choice of 4 attractive 2-tone Select cabinets or 2 standard cabinets. Each visible component, the cabinet, acrylic shell, headrest, jets, cover, and every other piece of trim are coordinated with the rest of the spa. The results for each color and trim package selection is a stylish and visually appealing spa that will become the centerpiece of your backyard.
*Exterior cabinets with accent included in Select Trim Package and available as upgrade in Plus Trim Package.
Exterior - Timber with Ebony Accent*

Exterior - Aspen with Timber Accent*

Exterior - Ebony with Timber Accent*

Exterior - Lodge with Ebony Accent*

Exterior - Coastal Grey

Exterior - Woodland Brown

Interior - Mist

Interior - Snow

Interior - Platinum

Interior - Almond

Cover - Dove

Cover - Dusk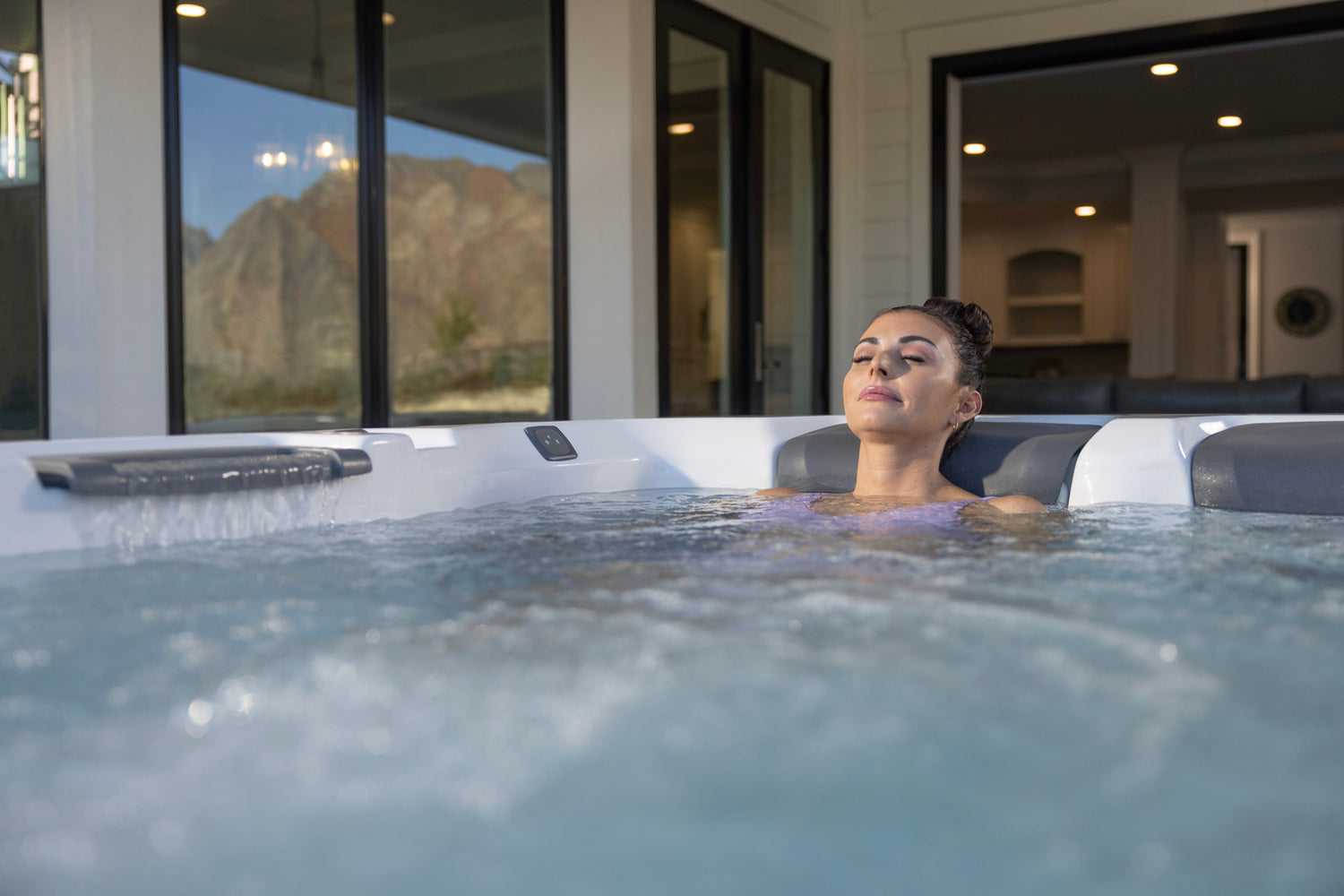 Bullfrog Spas Design Studio
Personalize Your A Series™ SpaUse Bullfrog Spas®' Design Studio to select your spa, colors, features, and options. You'll then receive an instant price quote.
Design My Spa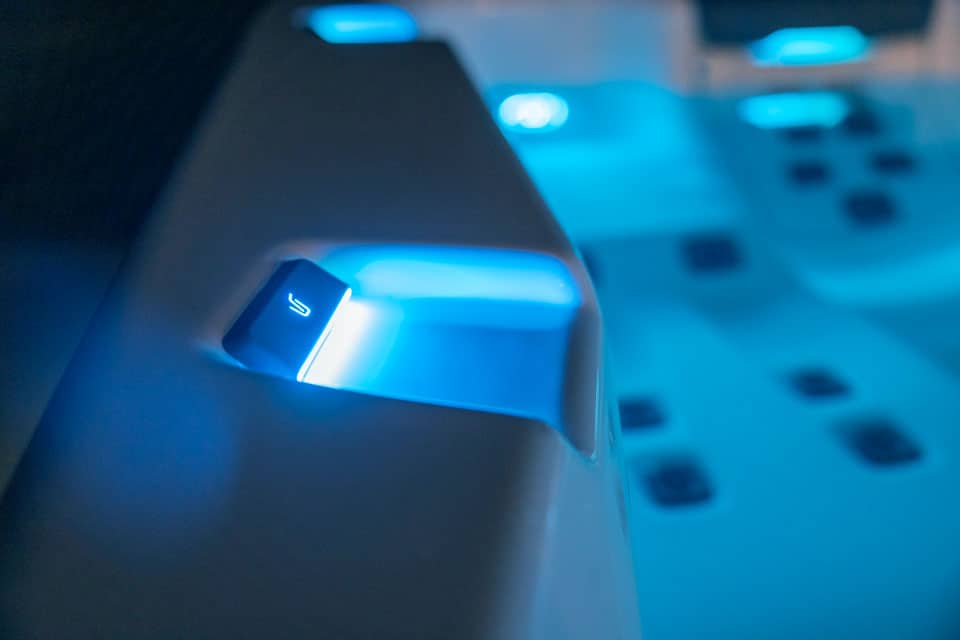 Lighting
We've reimagined A Series lighting in ways that make using your spa simple to operate, safe, and more enjoyable. Enjoy lighted cup holders, lighted water features, and lighted controls that are easier than ever to operate at night. Exterior safety light is bright and attractive. JetPaks now offer under-lighted headrests that enhance the mood of your spa relaxation. Our inductive lighting technology means that headrest under lighting operates seamlessly with no need for wires or connectors. Snap in the JetPak and the lights come on.
Premium Headrest

Standard Headrest

Headrests

The enhanced A Series headrests are better aligned to the neck and spine and offer an improved fit and look, blending seamlessly into the natural contours of the spa. Both the Standard and Select headrests feature a contemporary patterned surface for a fresh new look. ​

Water Features

The A Series premium waterfall is smooth, not splashy. A dedicated feature pump creates a consistent, subtle flow that fills a lighted basin on top and spills to the surface in one even ribbon. Both water and light cascade into the spa for a calm mood and a more peaceful environment. ​

Premium Water Feature

Standard Water Feature
Controls
The premium touchscreen control has been refreshed with improved icons and more legible notification text. The standard 8-button control has a refreshed overlay in coordinated colors with updated icons.​ 
All-new 3-function auxiliary controls, available with A Series Plus and Select trim packages now allow the spa user to control jets, lights, and water features easily without leaving the comfort of their favorite seat. In addition, these controls are lighted for ease of use at night.​
Premium Touchscreen Controls

Standard 8-Button Controls

Auxiliary Controls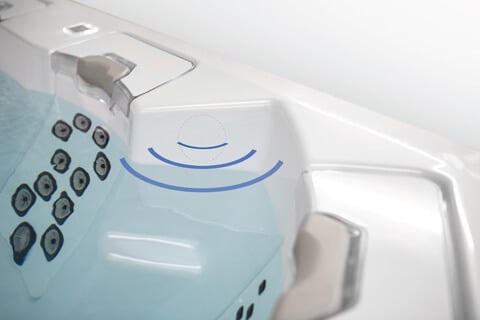 Premium Audio System
Upgrade your A Series spa with an optional top-quality audio system upgrade with a reliable behind-the-shell speaker system, premium quality sound, and Bluetooth connectivity. ​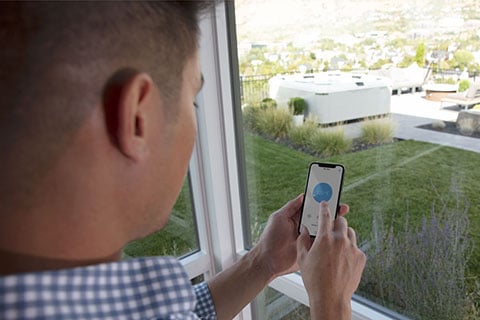 CloudControl 2™
With the optional CloudControl 2™ Wifi Module and the intuitive smartphone app, customers are able to monitor and control their spa from anywhere with a WiFi or digital cellular signal. Adjust the pump and filtration settings, start the spa jets before use, turn on the lights, and adjust the temperature from anywhere.
Accessibility & Safety Options
Premier Step™

The Premier Step is designed for premium spas like the all-new A Series. A top-quality, beautiful, reliable, and robust step, Premier Steps are available in colors to match cabinets or cabinet accents for all A Series cabinet options. 

Select Step™

The Select Step features a customizable system that provides maximum safety while adding visual appeal to any backyard setting. Colors and materials match Bullfrog Spas cabinetry for an integrated design.  And the modular design offers an optional third step upgrade with handrail and backrail options for enhanced safety.

DuraStep

Our entry level convenient DuraStep hot tub steps are color-matched to the spa cabinet and coordinated with the spa cover. These durable, long-lasting steps are easy to install and create safe and easy access to your Bullfrog spa with a non-slip surface and durable composite construction.

CoverMate I™

Supported by an easy to use mechanical cover lift, the CoverMate I™ can help all to improve the ease of use of their spa. This time-tested cover lift, is not just attractive but also the best selling cover lift in the market today.

CoverMate III™

Loaded with state of the art hydraulics the CoverMate III™ offers beauty and superior functionality. Throw in the aluminum full frame construction and beautiful mounting brackets and you will have peace of mind to go with the ease of use. This is a perfect option with no heavy lifting.

SwimDek Non-Slip Aquatic Surface Package

Improve the look, feel, and safety of your A Series spa. Our SwimDek™ Surface Package defines premium luxury and support with innovative, low-profile cushioning fixed onto the spa's interior shell. This is an available option for dealer installation on all A Series trim levels.