M Series
Elite Class
Combining captivating aesthetics with unmatched versatility and ease of use, M Series™ spas are the pathway to a peaceful body, peaceful mind, and peaceful home.
M Series Included Features
Patio Performance™ Coverwith Smart Sensor Functionality

M Series Spas feature built-in smart sensors. If you get the optional CloudControl 2™ wifi module, you can receive push notifications when your spa cover has been removed for added safety and peace of mind.

Premium Spa Lighting

Your M Series spa features premium LED surround lighting to set the perfect mood for relaxation. Enjoy a safer and more luxurious spa experience with full-color in-spa lighting, back-lit water features, lighted headrests, and impressive exterior rim lighting for both visual appeal and safety as you approach your M Series spa.

JetPak Therapy System™

This unique and proprietary technology provides you with your choice of up to 18 different massages. M Series spas feature a unique JetPak® of your choice in each premium seat. By selecting your JetPaks and placing them in the spa seats you like, you decide exactly how you want your spa experience to feel.

Premium Touch Screen Main Control

Control all spa functions and settings with the advanced and intuitive M Series touch screen control center. The main M Series control features a capacitive touch interface that is resistant to water interference and a thoughtful user experience that is easy to understand and simple to navigate.

Convenient Multi-function Auxiliary Controls

In-Seat Multi-Function Control Centers​ allow you to control all jetting​, activate lighting, control push-button water features​, and regulate the volume of the M Series hidden speaker audio system, all without having to move from your favorite spa seat.

EnduraFrame™ Construction

Bullfrog Spas is the leader in 100% wood-free spa construction technology. The proprietary and patented EnduraFrame™ spa support structure means your Bullfrog Spa is engineered to last. With no wood to rot or warp and a highly engineered structure that fits together perfectly you can be assured that your spa will be dependable and long-lasting.

Simplicity™ Filtration System

Your M Series spa features the all-new Simplicity Filtration System. Featuring dual intakes for more effective skimming, an in-wall design that saves an incredible amount of space for seating, and an industry-first flat filter. You'll absolutely love the convenience and cost savings that come with this simple approach to spa water filtration..

Adjustable Headrests

All premium seats with JetPaks in your M Series spa feature ultra-comfortable adjustable headrests that adjust upward to meet your head in just the right position, which is usually just above the lip of the spa for most people. No other spa features so many personalization and subtle comfort features. Sit back, relax, and experience a peaceful body, peaceful mind, and a peaceful home in your M Series hot tub.

Premium Integrated Waterfalls

Nothing adds to the ambience of spa relaxation quite like a peaceful and relaxing waterfall. The soothing sounds of falling waters remind us of beautiful tropical cascades, transporting you in seconds to that tranquil place.

EOS™ O3 System

Bullfrog Spas EOS O3 enhanced ozone system generates up to 2 times more O3 gas than standard ozone systems. Ozone is a powerful water sanitizer. EOS eliminates 99.9% of microorganisms without any harmful residual ozone gas. EOS requires almost zero maintenance and provides a powerful and automated secondary sanitation system that brings added peace of mind as it makes spa ownership even easier.

Dedicated Filtration Pump

Your dedicated filtration pump is calibrated for filtration system effectiveness as it circulates all of the water in your spa many times per day. In addition, a dedicated filtration pump operates much more quietly and more efficiently than systems that use a jet pump for filtration.
STIL™ Optional Accessories
CloudControl 2™ Wifi Module

With CloudControl 2™ Wifi Module and the intuitive smartphone app, you will be able to monitor and control your spa as long as you have a WiFi or digital cellular signal.
• Start the spa
• Turn on lights
• Change temperature
• Adjust pump and filtration settings

Integrated In-spa Surround Sound

Our state-of-the-art M Series Audio System produces long-lasting, top quality surround sound for the ultimate in-spa relaxation experience. System components are all hidden within the spa shell and protected from the elements for a cleaner look and built-in reliability. State-of-the-art transducer technology and Jetpod design produces a smooth frequency response that provides a rich surround sound throughout the spa.

M Series Steps

The premium M Series Step breaks with convention and offers an easy, safe, and visually appealing solution for getting in and out of your spa.
 
• Matching spa cabinetry within the step design provides an integrated and aesthetically pleasing look.
• The wide span gives these steps a higher standard of spa steps granting greater functionality and improved accessibility.
• The durable, non-slip surface applied to each step tread maximizes safety during entry and exit transitions.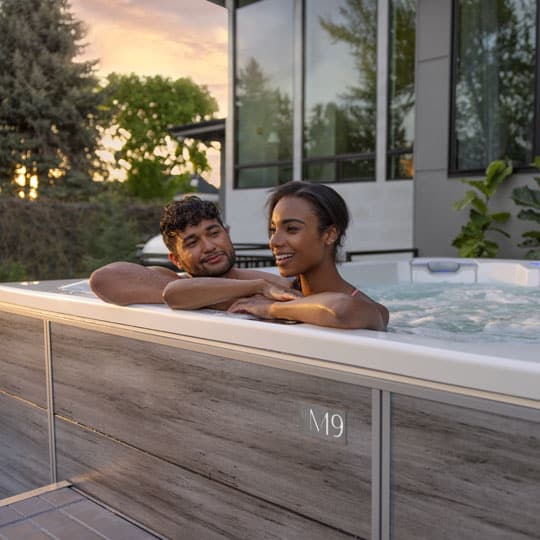 Bullfrog Spas® Design Studio
Personalize Your M Series Spa
Use Bullfrog Spas' Design Studio to select your spa, colors, features, and options. You'll then receive an instant price quote.
Design My Spa